Because CUPE Manitoba Cares
Fundraising for CancerCare Manitoba pediatric oncology began in the early 1990's as the declared priority community fundraiser for CUPE Manitoba. All Manitoban children with cancer are treated at the CancerCare Manitoba facility adjacent to the Health Sciences Centre (CUPE Local 1550).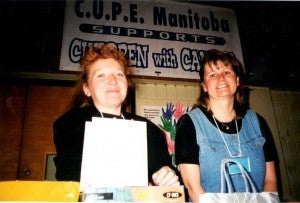 Over the years CUPE Manitoba has primarily raised funds by way of a silent auction held at each year's annual convention. Local's, suppliers and individuals donate prizes and delegates by tickets and all prizes are drawn on the last day of convention. Since CUPE's decision to support pediatric oncology, members have raised well-over $100,000 to help support children and their families who are affected by childhood cancer. Donations have been provided to enhance the children's playroom at the Cancer Care facility, the CK-5 Pediatric Oncology Ward and more!
Supporting Camp Indigo
In recent years, CUPE has been providing support for an important kid's camp for children with cancer: Camp Indigo.
Camp Indigo is a summer camp that is tailored to provide support for these children, and because of the specialized nature, is quite costly to run.
Health care aids are on-site 24/7, and treatment is still provided to the children throughout the camp. At the same time, Camp Indigo offers all the fun activities of a summer camp, and helps children and their families enjoy some well-deserved time together.
CUPE Manitoba is proud to be a strong supporter of Camp Indigo. CUPE members are dedicated to the community, and our involvement reaches beyond the labour movement and into the lives of children and their families in need.
Recent support to pediatric oncology: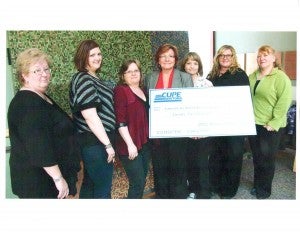 2001: $10,000
2003: $10,000
2005: $10,000
2012: $25,000
2013: $50,000
2015: $7,000
CUPE Manitoba is proud to be a strong support for pediatric oncology. CUPE is confident that our support helps children and their families in a very real way!
What is Pediatric Oncology?

Pediatric oncology is the branch of medicine that diagnoses and provides for the treatment of cancer in children.

Pediatric oncologists treat children from birth until 18 years of age, and provide specialized treatment and services for both children and their families.

Over the past 10 years there has been an average of 1,276 new diagnosis of childhood cancer each year in Canada.

Thankfully due to specialized services and medical advancements, the cure rate for childhood cancer is rapidly improving.