The Canadian Union of Public Employees (CUPE) is Canada's largest union.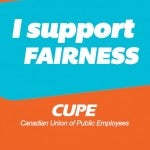 With around 618,000 members across Canada, and over 25,000 members in Manitoba, CUPE represents workers in health care, education, municipalities, libraries, universities, social services, public utilities, transportation, emergency services and airlines.
Listen to our Labour Day radio ads for Winnipeg and Brandon!
If you are a health care support worker, please visit phcc.cupe.ca for updates on bargaining.
Check out our NEW TV ad, profiling the work of health care support members province-wide!