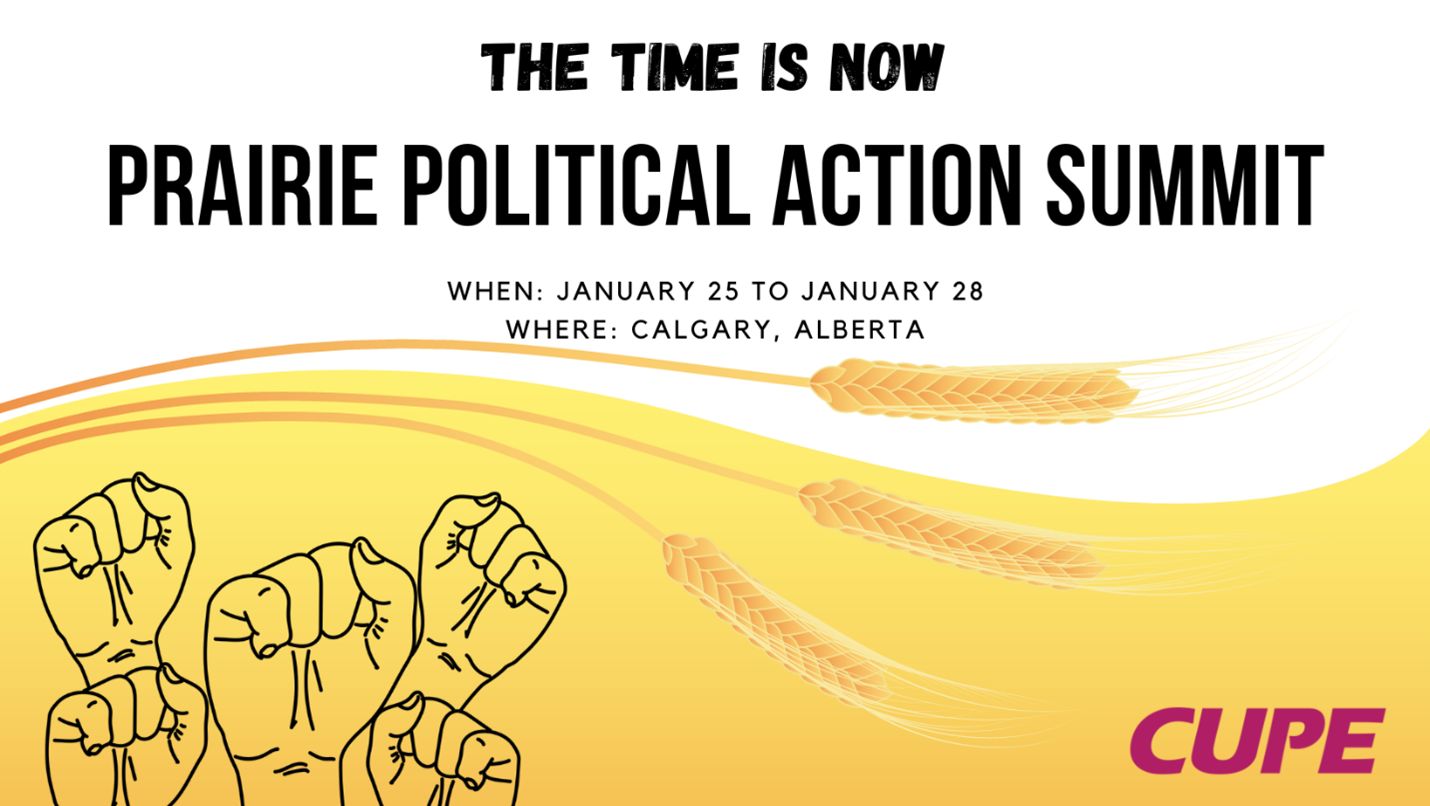 Prairie Political Action Summit
January 25-28, 2023
Calgary Marriott Downtown Hotel
We are on the verge of political elections in Manitoba, Alberta, and Saskatchewan. This moment is a critical opportunity to elect worker friendly governments in each prairie province.
CUPE members have a chance to stop right-wing governments across the prairies.
This exciting event will give CUPE members and our allies from across the prairies the skills, tools and needs to elect progressive politicians and to keep them accountable for their election promises.
Early Bird Registration has been extended to January 6. Space is limited!
UPDATE January 11: CUPE Manitoba just received confirmation of four (4) sponsored membership spots to attend the Summit funded by CUPE National. These spots are specifically allocated for members from Equity-seeking groups (racialized, young, 2SLGBTQ+, Indigenous, disabled) or members from small locals with limited funding.
Download the Sponsored Member Application Form and return via email to officeadmin@cupe.mb.ca.
Deadline for sponsored application: Friday, January 13, 11:59 PM.
Regular Deadline: January 20.
---
Registration Information:
---
Location:
Calgary Marriott Downtown Hotel
110-9th Avenue SE
Calgary, Alberta
Hotel Reservations:
To make guestroom reservations, call or email WE Travel
WE Travel – (888) 676-7747 or (613) 232-9908
Business hours  – M-F  8:30am – 4:30pm EST
Email: events@wetravel.net
Event name: CUPE Prairies Political Action Summit
Hotel reservation deadline is January 3rd, 2023. There are no guarantees on availability and price after that date. The hotel will do their best to accommodate.
---
For more information, click below: