Community Living Selkirk Employees Postpone Strike Action, Province Commits Funding

SELKIRK – CUPE Local 3085, representing employees at Assisted Community Living Selkirk, has postponed a strike that was due to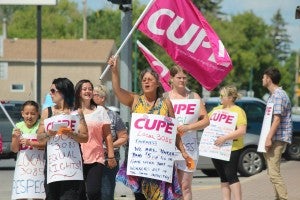 begin Friday morning, August 8, 2014. In a welcomed move to support Assisted Community Living (ACL) employees in Manitoba, the provincial government announced today that $6 million in new funding will be earmarked to ensure ACL workers, province-wide, receive fair wages for their important work in supporting Manitobans with intellectual and developmental disabilities.
"We are extremely pleased that the government of Manitoba has heard our call to support ACL workers" said Kelly Moist, President of CUPE Manitoba, "our members at CUPE Local 3085 worked diligently to raise awareness on the dire need for adequate funding for ACLs in Manitoba".
On July 9th CUPE Local 3085 members voted 94% in favour of strike action, and held information pickets in Selkirk on July 15th and 22nd , as well as a demonstration on July 25th outside the office of Kerri Irvin-Ross, Minister of Family Services and Housing, in an effort to support funding for ACL workers.
"Many ACL workers live below the poverty line, despite being such an integral part of the lives of countless Manitobans who live with disabilities" said Moist, "ensuring adequate funding for wages for these workers means that ACLs will be able to recruit and retain the dedicated staff they need to provide these important services".
Assisted Community Living organizations are non-profit support services that provide residential care to Manitobans living with intellectual and developmental disabilities.  Services include, 24 hour supervision, recreational supports, help with meals, medication, and integration into the community which helps Manitobans with intellectual disabilities live with dignity and respect.
"Employees at Community Living Selkirk take pride in the work they do" said Sheree Capar, CUPE National Representative "because of CUPE Local 3085's dedication to their work and their willingness to stand up for fairness, we have helped to achieve fair standardized wages for all ACLs across Manitoba".
The provincial government announced $6 million in funding to help ensure that ACL workers across the province are compensated fairly for the work they do. This funding was desperately needed to recruit and retain dedicated staff who in-turn are able to provide the type of consistency in care that Manitobans with intellectual and developmental disabilities need on a day-to-day basis.
"Many ACLs have reached a critical juncture in which retaining staff has become a major issue, and at Community Living Selkirk it became such an issue that staff were prepared to strike in order to bring attention to the dire need for funding" said Capar, "in fighting for fairness for themselves, employees at Community Living Selkirk have helped achieve fairness for everyone in the Assisted Community Living sector".
CUPE Local 3085 represents approximately 100 employees at Community Living Selkirk providing residential support services to Manitobans living with intellectual disabilities. CUPE represents over 600 ACL workers province-wide.
Click here to read the full Province of Manitoba media release