Last night the Joseph Zuken Association honoured former CUPE Local 500 activist Shirley Lord with the prestigious Joseph Zuken Citizen Activist Award.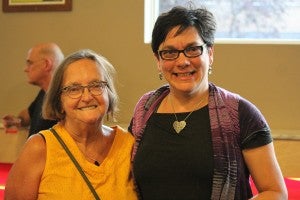 At a ceremony held in Winnipeg's West End Cultural Centre, friends, family, and community leaders gathered to celebrate the achievements of Shirley, as well as to celebrate the lasting impact her years of activism has had on the community.
Shirley was very active in CUPE and the labour movement for decades. Shirley was a municipal hospital unit president with Local 500, was chair of the CUPE Manitoba and MFL Political Action Committees, and was secretary of CUPE 500. She also worked at the CUPE Manitoba Regional Office. Additionally, Shirley was an Executive member of the Winnipeg Labour Council and Manitoba Federation of Labour.
Shirley served as President of the Manitoba NDP, and was the coordinator of CHO!CES, a coalition for social justice. She was the chair of both CEDA and Village Clinic, as well as a board member for Deer Lodge Hospital.
Shirley was also deeply committed to global justice, doing important work in Kampala, Uganda and Addis Ababa, Ethiopia.
CUPE is proud of the work that Shirley has done over the many years of her activism, and we look forward to her continued involvement in the labour movement. We have no doubt that Shirley's work has positively affected the lives of countless CUPE members, and for this we offer her our sincere thanks.
The Joseph Zuken Citizen Activist Award honours individuals or groups which have made a contribution to the community in keeping with Zuken's interests. Joseph (Joe) Zuken was one of Winnipeg's most effective and controversial progressive politicians. He served for over 42 years as a school trustee and city councillor, and was committed to serving the community.