Winnipeg – Today the Government of Manitoba announced an overhaul of the Child and Family Services Emergency Placement Program, committing to hiring 210 highly trained new permanent child-care workers over the next two years.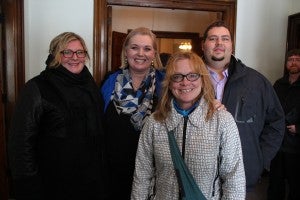 "We are proud that the Manitoba government is responding to the call for highly trained, permanent staff to care for children in need" said Kelly Moist, President of CUPE Manitoba. "Ensuring permanent reliable staff rather than contract workers means that children will receive the type of quality care they need to live with dignity and hope".
Manitoba Minister of Family Services Kerri Irvin-Ross made today's announcement as part of a response to reduce the number of children who are placed in hotels as part of their transition into other levels of care, as well as to ensure adequate, reliable staffing levels for children in need and a reduced reliance on contract workers.
"Workers must be provided the training they need and be treated as an integral part of providing care for children" said Moist. "Moving away from contract workers and towards more permanent staff is essential to ensure the safety and well-being of children in care".
The provincial government also committed to creating 71 new emergency foster home spaces, opening a secure residential care unit to work with girls ages 12 to 17 who have complex needs, increase capacity to perform mulch-disciplinary clinical assessments of children with behavioural challenges, and increase emergency foster placements and supports in rural areas for children closer to their homes.
"This initiative shows that the provincial government is both responsive and responsible" said Moist. "We are incredibly pleased that Minister Kerri Irvin-Ross also highlighted the reality that colonization, residential schools, and poverty are issues that must also be addressed to ensure that children can grow up in healthy, proud, and safe family environments".
CUPE represents 25,000 workers in Manitoba, including approximately 500 in Winnipeg Child and Family Services.