CUPE Local 3909, representing academic support staff at the University of Manitoba,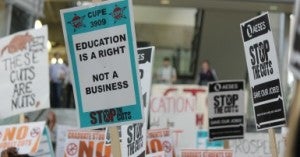 joined with other campus labour and student groups to fight back against cuts imposed by the university's administration on departments and staff.
The University of Manitoba is already acting on a proposed 4% cut across all departments, with the bulk of the cuts falling on programs and support staff.  Dozens of support staff jobs have already been cut, with 26 AESES jobs being reported as lost.
On April 1st, hundreds of students and staff rallied outside the Board of Governors meeting room, and marched through campus calling on the university to immediately end the cuts, and to ensure adequate funding for all programs and staff.
"We are not alone in our unrest," said Jennifer Black, CUPE 3909 Vice-President Unit 1.  Black stressed the importance of standing in solidarity with students in Québec who have been marching in the streets in opposition to tuition fee hikes, as well as academic staff in Ontario who went on strike demanding an end to poverty wages and precarious employment.  "Today we throw our collective energy behind that surge to push back against dangerous budget cuts proposed by our university," said Black.
CUPE Local 3909 represents approximately 1,500 academic support staff at the University of Manitoba.
For more information visit 3909.cupe.ca.