CUPE Local 500 President Mike Davidson presented a summary of the local's Public Plowing Works report to the City of Winnipeg Standing Committee on Infrastructure and Public Works, calling for contracted-out snow clearing to be brought back in-house.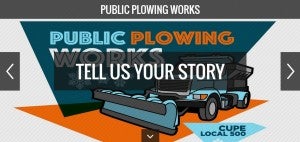 "CUPE 500's Snow Plowing Hotline resulted in hundreds of comments and concerns from across the city" Davidson told the committee. "The fact that so many Winnipeggers have offered their concerns and ideas on snow plowing indicates strong public interest in this core city service".
On February 10th the committee approved a motion to conduct an in-depth review of the city's snow clearing services, with particular focus on a cost and quality comparison between private contractors and city-run snow clearing services.
On February 23rd, CUPE Local 500 launched a snow plowing hotline and website aimed at collecting stories from Winnipeggers about their experiences with snow plowing in our city.
Below is a summary of the report. The full report will be provided to City Council at the same time as the City's own report on cost comparisons between public and private plowing in Winnipeg.
The date of the City's report is yet to be determined.