Highlights from the 2023 CUPE Manitoba Convention
Brandon, Manitoba, Treaty 2 – Over two hundred union activists and friends from across Manitoba gathered May 17 – 19, 2023 in Brandon, Treaty 2 Territory, for the annual convention of the Canadian Union of Public Employees (CUPE) Manitoba.
"37,000 CUPE members from across the province are mobilizing and fighting back against the Stefanson government's years of attacks on working people in Manitoba," said Gina McKay, President of CUPE Manitoba.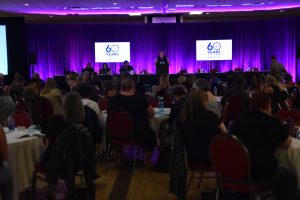 "There is no worker in Manitoba who hasn't been negatively impacted by Premier Stefanson's neglect of health care, education, social services, child care, crowns, and municipalities, and we won't stand for it any more".
Delegates discussed critical issues including chronic understaffing and underfunding in health care, schools, child care, social services, and threats of privatization.
Delegates heard from Judy Henley, President of CUPE Saskatchewan & General Vice-President for Prairies about experiences in Saskatchewan with how terrible Private Public Partnerships (P3s) have been for schools.
Wab Kinew, Leader of the Manitoba NDP addressed delegates following a standing ovation, and committed to delegates that if the Manitoba NDP are elected to form government in October, the NDP would bring in new P3 accountability legislation to protect schools, save money, and put a stop to privatization.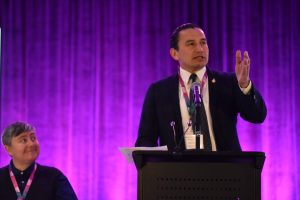 "Manitobans deserve to have an accountable and transparent government, and the Stefanson Conservatives have hidden numbers from the public, whether how many staff are short in our health care system, or how much P3 schools will cost," said Gina McKay.
"Wab's commitment to openness and transparency means Manitobans can count on a government that looks out for all of us".
CUPE National President Mark Hancock spoke to delegates, encouraging them not to take the upcoming election for granted.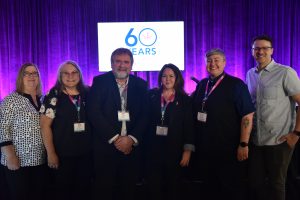 "Manitobans go to the polls later this year", said Hancock.
"In the months ahead, it'll be our job to remind folks about how much damage the Conservative government has done to workers' rights".
"You've endured seven years of Conservative government here in Manitoba, under Premiers Pallister and Stefanson.  Improving the lives of workers has not been their priority," said Candace Rennick, CUPE National Secretary-Treasurer.
"I urge all locals to get involved in this election, to engage your members on the issues and in the campaigns in their areas."
Convention began with traditional greetings and a territorial acknowledgment from Elder Kevin Tacan. Delegates were also greeted by Kirk Carr, President of the Brandon and District Labour Council, Bea Bruske, President of the Canadian Labour Congress, Bernie Wood, Canadian Labour Congress Manitoba Representative, and Kevin Rebeck, President of the Manitoba Federation of Labour.
On the first day of Convention CUPE members from across Manitoba joined with CUPE 737 (Brandon School Division), Brandon Pride, Sexuality Education Resource Centre, and Knox United Church –  Brandon in a protest march against a dangerous proposal before the Brandon School Division that seeks to ban books with life-supporting 2SLGBTQI+ content.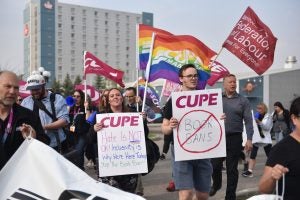 "Our members, especially those that work in libraries and education know how important access to 2SLGBTQI+ books are to youth," said McKay.
"The proposed book ban is based in really harmful false narratives about identity-affirming literature in our schools and libraries, and we want to show that our union and our community will not stand for homophobia and transphobia anywhere".
Special greetings were presented from Jagmeet Singh, Leader of the Federal NDP, and Leah Gazan, Member of Parliament for Winnipeg Centre.
Malaya Marcelino (NDP critic for Labour and Immigration, MLA for Notre Dame) also stopped by the convention to meet with delegates.
Marcelino shared how the NDP caucus is ready to form government and will rely on CUPE members to share their stories, ideas, and suggestions from the front-lines on how to build a better province for everyone.
Laura Walton, President of the Ontario School Board Council of Unions (OSBCU) spoke to delegates about the 2022 Ontario school division strike, emphasizing the strength of worker power, grassroots member mobilizing, and fearlessness in the fight against injustice.
Thomas Linner of the Manitoba Health Coalition outlined many of the Stefanson government's attacks on our public health care system and encouraged delegates to keep up the important work fighting for a strong, public health care system.
Members continued to break ground in the labour movement, building on our safer spaces commitments to ensure all CUPE events are safer, inclusive, more accessible. A member-led Safer Spaces room with daily programming quickly became a productive place for union members to fully participate.
Programming in the Safer Spaces room also included a featured presentation by Solange Machado from the Manitoba Harm Reduction Network (MHRB), on the importance of building in Harm Reduction services into our Union, workplaces, and communities.
Other featured speakers included former CUPE Manitoba & CUPE National President, Paul Moist, and 2nd Vice President of CUPE Ontario, Tiffany Balducci, who shared both the history of CUPE 1963-Present, and building CUPE into the future.
Other special guests included CUPE National's Diversity Vice President for Indigenous Workers', Debra Merrier, Kent Peterson, CUPE Saskatchewan and Regional Vice President for Saskatchewan, CUPE Senior Health & Safety Representative Andréane Chénier, First Vice President of the Hospital Employees' Union (HEU), Bill McMullan, as well as Jennifer Chen, NDP candidate for Fort Richmond
CUPE Manitoba members learned about political action organizing from Lonnie Patterson (CUPE 737, and President of the Manitoba NDP), Brandon Murdock (CUPE Manitoba Indigenous Representative, CUPE 2348 Vice President, and CUPE National Young Worker Committee), and Daniel Richards (CUPE Manitoba 2SLGBTQI+ Representative, 2ndVP of CUPE 204, and CLC National Political Action Committee).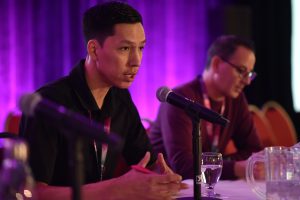 CUPE Manitoba was proud to present the annual Jack Rodie Award at the Convention's 60th Anniversary Banquet to Michelle Bergen of CUPE 998 in recognition of her long-standing commitment to the labour movement.
"We have passed a great number of resolutions, and this is the change we hoped to see, and the progress we hoped to bring to our union as we work stronger together in Manitoba."
"CUPE has never been more ready to take on the Stefanson government," concluded CUPE Manitoba President Gina McKay. "Our delegates voted unanimously to endorse the Manitoba NDP as the only political party in Manitoba ready and willing to fight for Manitoba workers".
More photos are available at the CUPE Manitoba Facebook Page
Elected, re-elected, and acclaimed members to the CUPE Manitoba Executive during Convention include:
President – Gina McKay, CUPE 2348
Secretary-Treasurer – Mylene Holmes, CUPE 204/500
Recording Secretary – Christie Bachynski, CUPE 500
Trustee ­– Natina Pelletier, CUPE 4270
Winnipeg Area "B" – Carmen Prefontaine, CUPE 500
South Central Area – Teresa Massinon, CUPE 4270
Eastern Interlake Area – Gordon Meneer, CUPE 998
Indigenous Council – Brandon Murdock, CUPE 2348
Racialized Representative – Karen Brown, CUPE 204
Congratulations to all!
CUPE Manitoba delegates raised over $2,000 for Ndinawemaaganag Endaawaad (Ndinawe)