CUPE Manitoba joins CUPE National, the Federal NDP, and millions around the world in calling for an immediate ceasefire in the Israel-Hamas conflict. The ongoing genocide in Gaza by the Israel Defense Force must stop, and world leaders including Prime Minister Justin Trudeau must take up the call for an immediate ceasefire and an end to Israel's illegal occupation.
CUPE Manitoba joins CUPE National in signing on to the CEASEFIRENOW.CA Statement:
https://ceasefirenow.ca/who-we-are
CUPE Manitoba joins CUPE Local 2348 alongside many Manitoba organizations and groups in signing on to the Community Solidarity Manitoba statement:

"On the Violence in Israel-Palestine and the Need for Local Governments and Communities to Promote Peace"
http://www.communitysolidaritymb.ca/
CUPE Manitoba encourages affiliated locals, members, and community members to join the peaceful, family-friendly rallies and events calling for an Immediate Ceasefire to end the genocide in Gaza.
The next rally in Winnipeg is scheduled for Sunday, November 19 at 1 PM at Memorial Park. See the Canadian Palestinian Association of Manitoba (CPAM) Facebook page for rally information going forward.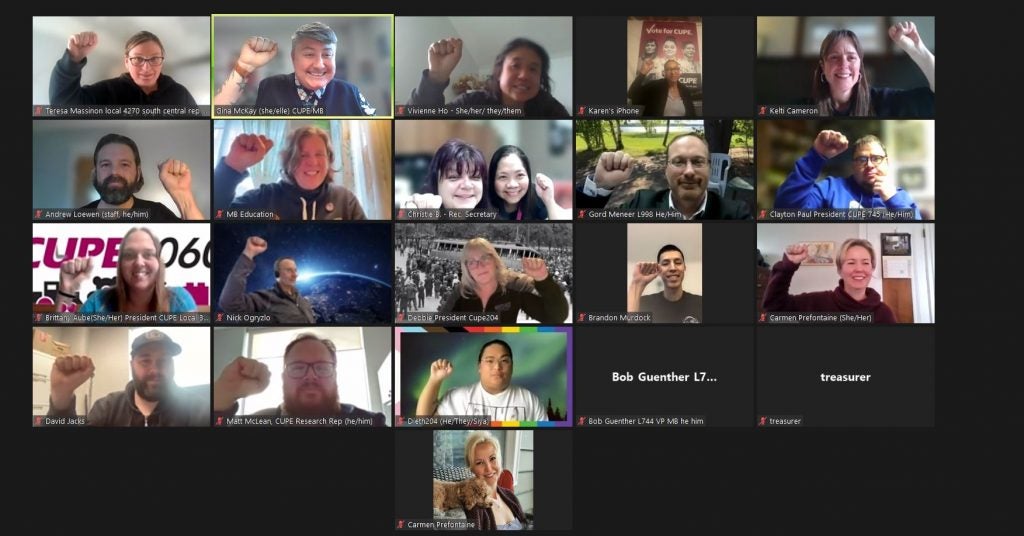 ---
CUPE Manitoba was mandated by delegates at our May 2023 Annual Convention in Brandon, Treaty 2 Territory, to endorse and take up the call of the Boycott, Divestment, and Sanctions Movement with Resolution 20, which was passed with unanimous support from Convention delegates:
R20 — BOYCOTT, DIVEST, AND SANCTION
CUPE MANITOBA WILL:
Support the Boycott, Divest, and Sanction movement to end Israeli Apartheid and the oppression of Palestinians.
BECAUSE:
Israel is discriminating against Palestinian citizens of Israel and denying Palestinian refugees the right to return to their homes;
Israel continues to construct settlements on Palestinian land in clear violation of international law; and
BDS is global movement made up of unions, academic associations, churches and grassroots movements across the world and is effectively challenging international support for Israeli apartheid and settler-colonialism
Resolution 21 was referred back to the CUPE Manitoba Executive Board at the May 2023 Convention due to time constraints and was passed at the August 2023 CUPE Manitoba Executive Board Meeting:
R21 – INTERNATIONAL HOLOCAUST REMEMBRANCE ALLIANCE
CUPE MANITOBA WILL:
Lobby the Manitoba government to repeal its recognition of the International Holocaust Remembrance Alliance Working Definition of Antisemitism (IHRA-WDA).
BECAUSE:
The IHRA-WDA is designed to silence criticism of Israel and of Zionism by equating this criticism with antisemitism.
The real fight against antisemitism must be joined to the struggle for equality and human rights for all people; and
A report by Independent Jewish Voices Canada has found adoption of the IHRA-WDA at universities has led to an "environment which threatens academic freedom, muzzles scholarly production, obstructs academic careers, encourages mendacious and malicious discourse, and stifles legitimate protest."
---
Further resources and information: