Winnipeg – CUPE Manitoba President Kelly Moist was on-site on Monday along with members of CUPE Local 2348 at the unveiling of new plans to transform the Merchants Hotel on Selkirk Ave in Winnipeg's North End into a multi-use education, affordable housing, and social services hub.
"Winnipeg's North End is a place where so many different communities come together in celebration of our city's diversity" said Moist. "The new Merchants Corner is a beacon of cooperation, hope, and renewal for the community".
Over the past number of decades the Merchants Hotel was seen by many in the community as a derelict and crime-ridden facility which often served as a venue for dangerous and criminal activity.
Today the renewed facility will be a centre for community engagement, including student and affordable housing, the University of Winnipeg Urban and Inner-City Studies program, and Community Education Development Association's Pathways to Education (CEDA) high school completion program.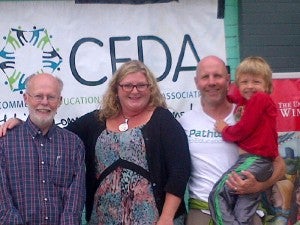 "CUPE members who work at CEDA are thrilled with the level of inter-agency cooperation that led to the development of this project" said Moist. "Our members are part of the community, and provide important educational support and services to many North End residents".
The new Merchants Corner was made possible through generous contributions from the Manitoba government, as well as strong community support through various agencies and organizations including the University of Winnipeg, CEDA, North End Community Renewal Corporation, Winnipeg Housing Rehabilitation Corporation, and many others.