Selkirk – CUPE Local 3085, representing employees at Community Living Selkirk, has served notice to their employer that they will be on strike effective August 8, 2014, at 8:00 am.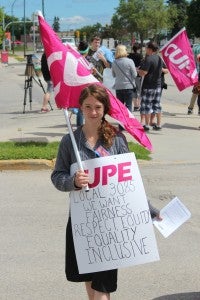 "We have done everything in our power to avoid a strike situation" said Sheree Capar, CUPE National Representative, "but the employer refuses to provide fairness, offering sub-inflationary increases that would amount to nickels and dimes on already low wages".
On July 9th members voted 94% in favour of strike action, and held information pickets in Selkirk on July 15th and 22nd in an effort to put pressure on the employer to offer a reasonable package.  On July 25th, following numerous meetings with a provincial conciliation officer, the strike committee officially served the employer with two weeks' notice of the strike commencement date.
"Employees at Community Living Selkirk take pride in the work they do" said Capar, "going on strike is a difficult decision for anybody, but there is only so long that a worker can survive below the poverty line".
The union has also been informed by Community Living Selkirk that replacement workers are already being trained to take over the duties of striking employees.
"The fact that Community Living Selkirk can afford to pay expensive private replacement workers and not their own employees is shocking" said Capar, "why don't they just support their staff?"
CUPE Local 3085 will be traveling to Winnipeg to hold an information picket outside the office of Kerri Irvin-Ross, Minister of Family Services (1060 Pembina Highway) on Tuesday, July 29th at 12:00 noon.  They will be calling on the province to ensure adequate funding to support Assisted Community Living staff.
CUPE Local 3085 represents approximately 100 employees at Community Living Selkirk providing residential support services to Manitobans living with intellectual disabilities.
For more information, contact:
Sheree Capar, CUPE National Representative – Cell #:  204-801-4699
David Jacks, CUPE Communications Representative – Cell #:  204-801-7339