CUPE Local 3085 (Community Living Selkirk) invites you to join them at the Minister of Family Service' office to call for fairness for Assisted Community Living workers!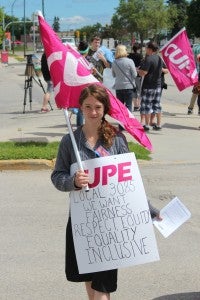 Community Living Selkirk employees provide important supports and services to Manitobans living with intellectual disabilities, yet are paid just above minimum wage, forcing many employees to live below the poverty line.
Employees voted 94% in favour of a strike mandate, and need your support to help them achieve fairness in their workplace.
WHEN: Tuesday July 29, 2014
TIME: Noon – 1:00 p.m.
PLACE: 1060 Pembina Highway, Winnipeg (constituency office of Minister of Family Services and Minister Responsible for the Status of Women, Kerri Irvin-Ross).
For more information contact David Jacks at djacks@cupe.ca
Bring your signs, noisemakers, friends and family!