Campus labour and student groups at the University of Manitoba held a rally on January 27th in opposition to major across-the-board cuts proposed by the university's administration. The University of Manitoba is proposing 4% cuts across the university, yet have been silent on details.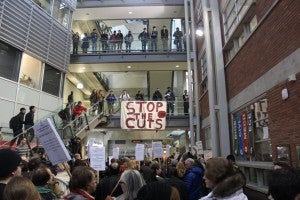 CUPE Locals 3909, 1482, and 5156 joined a coalition with the University of Manitoba Faculty Association, Association of Employees Supporting Education Services (AESES), Unifor, the Student Action Network, Canadian Federation of Students, University of Manitoba Students' Union (UMSU) and others in opposition to these cuts, as well as to the ongoing corporatization of campus services and programs.
Jennifer Black, CUPE Local 3909 Vice-President Unit 1, representing student academic workers, spoke at the event highlighting the impact the proposed cuts would have on the university community. "These cuts could include layoffs and reductions in academic support staff campus-wide" said Black, "the administration is proposing an austerity budget that would greatly harm the quality of education provided by the University of Manitoba."
Students and workers began the march at the university's engineering complex and detoured through the university's Administration Building after attempting to walk-in on the Board of Governors meeting taking place on campus. "Students and campus workers are taking direct action" said Black, "the University needs to see exactly how high the stakes are when they propose cuts to our education."
CUPE represents approximately 1,600 post-secondary workers in Manitoba.
For more photos check out the CUPE MB photo gallery