WINNIPEG – The municipal workers who deliver Winnipeg's water have joined those calling for the building of an all-weather access road to Shoal Lake #40 First Nation.
"It is unjust that the people who live in the community that sources our public water have been under a boil water advisory for 17 years and are often cut-off entirely from accessing clean water and public services" says Mike Davidson, President of CUPE Local 500. "As the workers who deliver this water to Winnipeggers, we feel that clean, public water should also be available to those who source it."
On July 21, 2015, CUPE Manitoba officially endorsed the Shoal Lake #40 "Freedom Road" campaign by sending a letter to Chief Erwin Redsky indicating the support of Winnipeg's municipal workers, as well as a letter to Aboriginal Affairs Minister Bernard Valcourt urging him to act immediately to improve the living conditions of the people of Shoal Lake #40.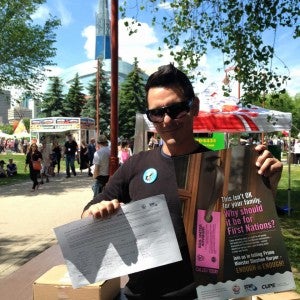 "We applaud the City of Winnipeg and Province of Manitoba for committing to help build a road to Shoal Lake" said Kelly Moist, President of CUPE Manitoba. "Everyone seems to acknowledge the urgency of this situation, except for the federal government."
While the federal government refuses to commit funding to help Shoal Lake #40 gain access to potable water and services via an all-weather road, Canadians from all levels of civil society are taking initiatives to support the community – from petitions, to writing letters to Members of Parliament, to fundraising.
CUPE Local 500 has been outspoken against the privatization of water and wastewater treatment, and is a staunch advocate for continued investments in public water infrastructure.
"We all benefit from the clean, potable water provided to us by Shoal Lake" said Davidson. "It is unacceptable that this community should suffer on our behalf."
Shoal Lake Facts
Shoal Lake #40 First Nation is located at the Manitoba-Ontario border south of the Trans-Canada highway. Shoal Lake has provided Winnipeg's drinking water since 1919 via a 153 km aqueduct.

The population of Shoal Lake #40 is 270, and the community has been under a boil water advisory for the past 17 years. The community spends approximately $100,000 per year importing bottled water, despite supplying 700,000 Winnipeggers with water from the nearby lake and reservoir.

Currently there is no all-weather road access to the community, which must travel via boat during the summer, or cross the ice in the winter to fetch basic supplies and drinking water. At least 9 community members have died taking this journey.

The cost of building the all-weather "Freedom Road" to connect the community to the Trans-Canada highway is estimated at $30 million. All levels of government have committed $1m towards a road plan. The Province of Manitoba and the City of Winnipeg have each committed to contribute a share of the cost towards the project, but the federal government has not committed, leaving the community at risk.
CUPE believes that water is a basic human right. There are still far too many communities across Canada under boil water advisories, and CUPE will continue to push for safe, public drinking water for all.
CUPE Local 500 represents approximately 4,200 municipal workers in Winnipeg.
Letter to Chief Erwin Redsky
Letter to Minister Valcourt