The Provincial Government has finally released the Wait Times Reduction Task Force final report dated November 2017, eight months after the government announced the closure of Emergency Departments and Urgent Care centres in hospitals across Winnipeg.
"The Report suggests that the government's decision in April 2016 to shut ERs was rushed," says Debbie Boissonneault, President of CUPE 204 representing health care workers across Winnipeg, including at Concordia Hospital, Grace Hospital, Seven Oaks General Hospital, and Health Sciences Centre.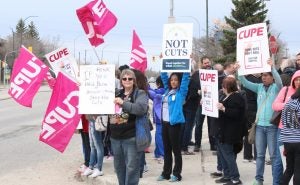 "As front-line workers, we believe that any changes to the health care system must be done carefully, putting patient care first."
The report notes that closing the Concordia and Seven Oaks Emergency Departments (EDs) should be delayed, in particular "if the ED at Seven Oaks General Hospital were to close at the same time as the full closure of Concordia Hospital ED, it would put a monumental burden on the remainder of Winnipeg's EDs".
"Our primary concern as health care workers is how patients are affected by these changes," said Boissonneault.
"CUPE and the authors of the report share the concern that rushed, ill-conceived changes could result in harm."
The report also highlights concerns that "rapid implementation of consolidation will place a major stress on current resources".
The Regional Health Authorities have been mandated to find millions in "savings" while the government is implementing recommendations from the Peachy Report, the KPMG Report, and the Wait Times Reduction Task Force report.
The KPMG consulting report pushes rapid changes to the health care system while the Wait Times Reduction Task Force, with medical doctors at the helm, cautions to "hasten slowly".
"We are already experiencing the additional stress on health care staff in facilities across the province due to all these changes happening at once and the mixed messages from government," said Boissonneault.  "There are numerous different reports being implemented in-part or in-full at the same time, and there seems to be no coherent plan on how these changes will impact patient care."
One positive aspect of the Wait Times Reduction Task Force is an emphasis on social determinants of health, which include poverty, living conditions, and other socio-economic factors that impact the well-being of communities.
"We are pleased to see that the report emphasizes government action on inequity in our society," says Boissonneault.  "Whether this government is willing to address these deeper issues in health care is still left to be seen."