Dates set for health care union representation votes, August 8 to August 22, 2019
CUPE to Pallister: health care workers deserve a break

Today the Commissioner responsible for the implementation of the Health Sector Bargaining Unit Review Act (HSBURA) announced the dates of union representation votes, a move by this government that CUPE continues to claim is an unnecessary disruption to health care.
"The Pallister government is throwing another wrench into an already strained health care system," said Shannon McAteer, CUPE Health Care Coordinator. "Health care workers across Manitoba deserve a break, yet this government continues to pile on uncertainty, stress and chaos."
HSBURA was enacted in 2018, and forces health care workers to choose which union will represent them into the next round of contract negotiations. Bargaining has been stalled in Manitoba until the results of these representation votes.
"CUPE is Canada's largest health care union and we will stay focused on fighting Pallister's health care cuts and defending our members in the workplace," said McAteer. "We also want to focus on the future, and that future is bargaining a strong contract for our health care members and getting them the respect they deserve".
The union that gets the most votes in each of the 18 health care votes taking place across the province will be certified to represent those workers. The winning union in each bargaining unit will then bring its largest collective agreement into the next round of bargaining. If CUPE wins the votes, CUPE will be bringing the strongest health care contracts in the province to the table.
"CUPE's health care contracts are the strongest in Manitoba, with good pensions and benefits for all of our hard working health care members" said McAteer. "CUPE has a no-concessions bargaining policy and a $100 million strike fund, so we are ready to bargain strong in health care."
DETAILS:
Voting dates will take place between August 8 and August 22, 2019.
Notice Period: June 13 – July 10
– Voters lists will continue to be reviewed.
– A letter to all affected employees with information about the votes will be delivered between July 9 and July 19.

Campaign Period: July 11 – August 7
– This includes an opportunity to meet with CUPE in kiosks at various sites.
– Voters will be provided with a Personal Identification Number (PIN).
– A voter help desk will be available.

Voting Period: August 8 – August 22
– Voting will begin at 12:00 noon on August 8, and end 12:00 noon on August 22nd
– Voting will be available 24 hours a day online or by touchtone phone, in English and French.
– Once voting concludes, the results will be tabulated and released.
CUPE is committed to following the campaign rules established by the Commissioner, and we will continue to provide information to all health care workers about the impact the Health Sector Bargaining Unit Review Act will have in the workplace.
CUPE wants all members to know that while these votes are taking place, CUPE will continue to prioritize fighting for you in the workplace. We know health care workers are going through a difficult time, and we're committed to being with you, for you at work.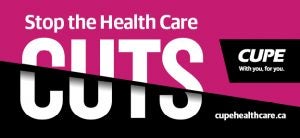 CUPE is ready to fight for all health care workers.
CUPE represents 680,000 members across Canada, including 162,000 health care workers, and approximately 11,600 health care workers here in Manitoba.
Learn more about CUPE and the representation votes at: http://cupehealthcare.ca