CUPE Manitoba is pleased to announce the election of Gina McKay (she/her) as the next President of Manitoba's largest labour union.
Delegates at the CUPE Manitoba Convention held October 20th – 22nd elected Gina McKay to represent the union's 37,000 members.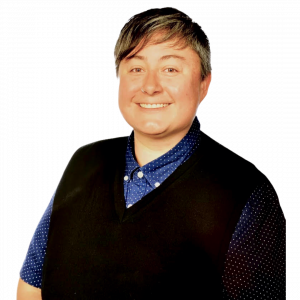 "I am honoured to receive the confidence of CUPE members from across Manitoba to lead our union," said McKay. "We have a lot of work to do as activists, and we are committed to fighting for the rights of all workers in Manitoba."
McKay currently works as the Labour Director, at the United Way Winnipeg, and is a member of CUPE Local 2348, serving as Recording-Secretary and previously served as the local's President.  McKay was recently elected as the Equity Vice-President for Lesbian, Gay, Bisexual, Transgender, Queer, Two-Spirit, Intersex Workers of the Canadian Labour Congress, and sits on CUPE's National Pink Triangle Committee.
"I am committed to building unity in the labour movement and am dedicated to ensuring we work stronger together to fight back against governments who push austerity and regressive legislation and attacks on working people in Manitoba," said McKay. "The provincial Conservatives have tried to divide workers in Manitoba and undermine public services, and I'm here to say we are more united than ever."
McKay is a queer, Métis activist and has worked on LGBTQ2+ issues with CUPE at the local, provincial and national level, with the Manitoba Federation of Labour, the Winnipeg Labour Council, with the CLC and even internationally with Public Services International's LGBTQ2+ contingent to the UN Commission on the Status of Women.
The new CUPE Manitoba Executive Board are:
President:                    Gina McKay, CUPE 2348
Vice-President:           Debbie Boissonneault, CUPE 204
Secretary-Treasurer:  Mylene Holmes, CUPE 204 & 500
Recording Secretary:  Steve Magian, CUPE 744
Trustee, 3-year:          Theresa Proctor, CUPE 204
Trustee, 2-year:          Jesse Barnett, CUPE 69
Trustee, 1-year:          Rick Moore, CUPE 731
Area Representatives:
Winnipeg Area Representative:         Vivienne Ho, CUPE 2348
Winnipeg Area Representative:         Linda Durham, CUPE 2153
South-Central Area Representative:  Lisa Sibbald, CUPE 5238
Eastern/Interlake Representative:      Gord Meneer, CUPE 998
Brandon Area Representative:           Jamie Rose, CUPE 737
Northern Area Representative:          Clayton Paul, CUPE 745
Equity Representatives:
LGBTQ2+ Representative:                             Daniel Richards, CUPE 204
Person with a Disability Representative:       Bob Guenther, CUPE 744
Young Member Representative:                    Cody Clay, CUPE 731
Racialized Workers Representative:              Karen Brown, CUPE 204
Indigenous Representative:                           Tricia Merritt, CUPE 204
Woman/person who identifies as
woman Representative:                              Michelle Bergen, CUPE 998
CUPE is Manitoba's largest union, represents approximately 37,000 members working in health care facilities, personal care homes, school divisions, municipal services, social services, child care centres, public utilities, libraries, and family emergency services.