Indigenous water protectors, CUPE leaders Gina McKay, Gord Delbridge, and elected CUPE MB Indigenous Representative Brandon Murdock, Elder Gramma Shingoose, the Southern Thunderbird Medicine Drum group, and speakers including NDP MLA for Winnipeg-St Johns Nahanni Fontaine and activist Sadie Lavoie gathered at the Oodena Celebration Circle at the Forks to mark World Water Day on Wednesday.
Water issues continue to disproportionately impact Indigenous communities, according to advocates speaking at a World Water Day event at the Odena Circle Wednesday night.

"World Water Day is really important to reflect on our impact on water and water systems here in Canada, on Turtle Island and globally in the world," said Sadie Lavoie, one of the speakers. About 30 people attended the event held at the Forks in Winnipeg to mark the annual UN observance day to raise awareness about the importance of fresh water. It's estimated that about 2 billion people live without access to fresh water.

Lavoie has been an advocate for water protection and sustainability in Manitoba for years, and previously worked for Wa Ni Ska Tan, which is an Indigenous-led alliance of hydro impacted communities.

"It's frustrating, it's sad because we've been talking about this for years, if not decades," Lavoie said about the 32 boil water advisories in First Nations communities across Canada.

CBC: 'A human rights issue that has been overlooked': Winnipeggers mark World Water Day
CUPE's new Water is Life poster, created by artist Aaron Paquette, was unveiled at the event, where free copies were eagerly received by dozens of participants at the gathering.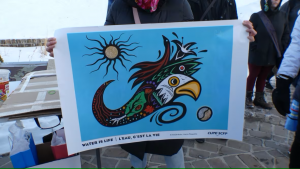 Learn more about CUPE's national Water is Life campaign:
https://cupe.ca/water-life-fight-clean-drinking-water-continues