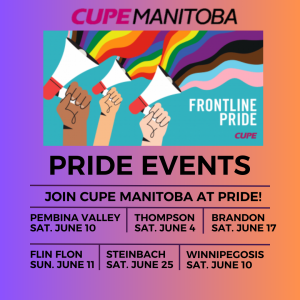 A Message from CUPE Manitoba President, Gina McKay
Recently in Manitoba, we have seen groups working to condemn and violate human rights, limiting gender/sexual health, and pushing to ban books in our province.
While we celebrate advances made, we must always be cognizant that there is still a long way to go and that in each of our communities, there continues to be people fuelled by fear, hate, and trans/homophobia that will work to remove rights and the dignity of those they deem different from themselves. Standing/walking/enjoying a festival in solidarity helps support the community.
For those in Winnipeg and surrounding areas, on Sunday June 4, 2023, Pride Winnipeg will be holding its Pride Rally and March. CUPE Manitoba is inviting all Locals, members, and allies, to be part of our walking group.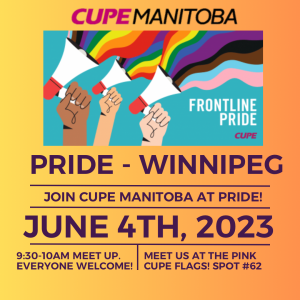 We will be stationed in the March staging area, in spot #62, located on the North side of the Legislature, on Memorial Blvd. (between Broadway and York) and asking those joining us to meet there between 9:30-10:00 AM. The main Pride Rally will begin at 10:00am at the Manitoba Legislative grounds with the March to follow at 11:00am. Look for the pink CUPE flags to join the group! We will also have placards with community solidarity messages to carry. Please bring your Local and CUPE flags and with the forecast for Sunday being +32C, please be sure to bring along a hat, water bottle and sunscreen.
The parade ends at the Forks where the Pride festival will be occurring throughout the weekend. Here is a link to the Winnipeg Pride events: https://pridewinnipeg.com/programming-artists
If you are not attending Pride in Winnipeg on Sunday, please be sure to join CUPE Manitoba at more Pride Community events throughout Manitoba. Join us to share your support at the following events:
Winnipeg:
Saturday June 3 – Trans March
Legislative Bldg. North side
1PM rally, 2PM March https://www.facebook.com/events/1289335331714095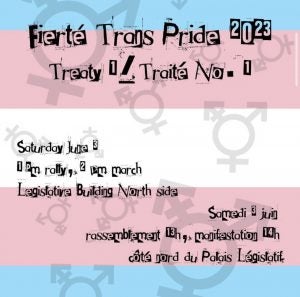 Flin Flon:
Sunday – June 11
March starts Uptown @ 11AM
Ends at Petting Zoo site https://www.facebook.com/flinflonpride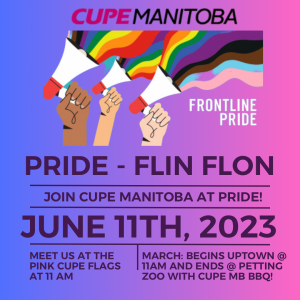 Brandon:
Satruday, June 17th Pride in the Park
Meet at City Hall https://www.facebook.com/BdnPride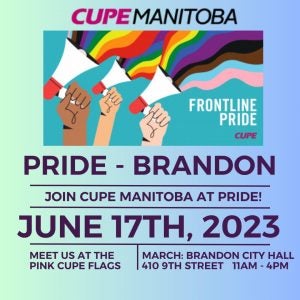 Brandon Pride in Solidarity Event:
Tuesday – June 13
Featuring Larry Rousseau, CLC & Gina McKay, CUPE MB
https://facebook.com/events/s/pride-in-solidarity/268516518881303
Pembina Valley: June 10th Pride Celebration @ 1PM Morden Park Morden, MB
https://www.facebook.com/pembinavalleypride
Thompson:
June 10th MacLean Park, 11AM-4PM Thompson, MB
Steinbach:
June 25th
K R Barkman Park, 1PM Steinbach, MB
Winnipegosis:
Winnipegosis Blvd., 10AM – 2PM Winnipegosis, MB