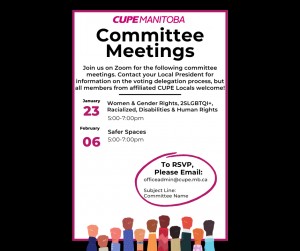 See updates above (click to enlarge)
The first full Meetings of CUPE Manitoba's Standing Committees (Issues-based committees only) have been scheduled in January. These meetings have been scheduled by staff committee liaisons in coordination with the members who participated in the committee welcome meetings in November.

We strongly encourage Local Affiliates and members to circulate, share, and post this notice in order to recruit and promote the renewal of these important Standing Committees in Manitoba.
At these meetings, participants will elect their Committee chairs and co-chairs and adopt their Terms of Reference. In accordance with CUPE Manitoba's Bylaws & Policies, at least 30 days notice is being provided to Affiliates for these Standing Committee meetings and elections.
All Meetings will take place on Zoom (online)
Young Members – January 15th – 7:00 PM
Indigenous Council – January 19th – 6:30 PM
Human Rights, Women's & Gender Rights, 2SLGBTQI+, Racialized, Disabilities – January 23rd – 5:00 PM
Political Action & Contracting Out – January 24th – 6:30 PM
Charitable Works – January 30th – 5:00 PM
Global Justice – January 31st – 5:00 PM
Safer Spaces – February 6th – 5:00 PM
*** Date for Health & Safety Committee meeting has not been finalized and will be provided when scheduled
To register, members should contact their Local President to become a delegate and email officeadmin@cupe.mb.ca with the committee name in subject line.