The CUPE Manitoba executive board made a donation of $5,000 to the Eugene Kostyra Memorial Trust Fund, supporting scholarships for students at St. John's High School.
"CUPE Manitoba is proud to continue to honour Eugene's legacy by supporting this wonderful scholarship program in his name", said Gina McKay, President of CUPE Manitoba.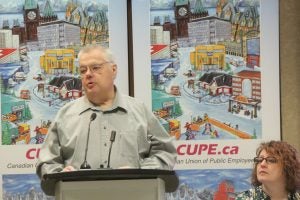 "Eugene's life's work has impacted thousands of Manitobans, and helped make the lives of CUPE members better".
Eugene Kostyra was an active CUPE member, moving to become the CUPE Regional Director in Manitoba, and later a Member of the Legislative Assembly and Cabinet Minister.
At the 2021 CUPE Manitoba Convention, delegates voted to support the Eugene Kostyra Memorial Trust Fund, recognizing the importance of Eugene's work, and it's ongoing impact in the community.