The Manitoba Throne Speech offers little reassurance that the provincial government will support public education and child care, says the Canadian Union of Public Employees.
"With the elimination of the education property tax, we are concerned that the government will resort to school cuts, especially under the auspices of the K-12 review," said Abe Araya, President of Manitoba. "Where is the government going to come up with funding for our children's education?"
The Throne Speech also introduces the government's plans to increase private child care spaces in the province, including for capital investments in private child care facilities.
"The government should be focused on increasing public, affordable child care across Manitoba, rather than subsidizing private facilities that could end up costing families more," said Araya. "Childcare advocates have been calling for fully funded public child care in the province, and this government is going the opposite direction".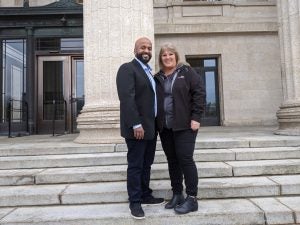 The government's sweeping changes to the health care system continues to impact front-line health care support staff.
"As the government and health authorities continue to implement their restructuring of health care, support workers remain understaffed and under-valued," said Debbie Boissonneault, President of CUPE Local 204 representing Community and Facility Support staff in the WRHA and Shared Health.
"We need investments in support staff positions, as well as a commitment from the province that they will not be privatizing or contracting out any health care services".
The Canadian Union of Public Employees is Canada's largest union representing more than 700,000 members. In Manitoba, CUPE is the province's largest union, representing approximately 36,000 members working in health care facilities, personal care homes, school divisions, municipal services, social services, child care centres, public utilities, libraries and family emergency services.