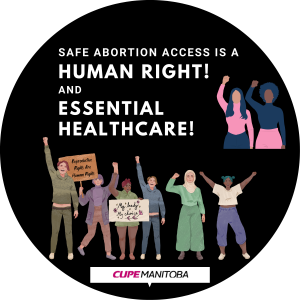 The U.S. Supreme Court has made a decision that directly targets the health & safety, human rights, and reproductive health rights for those accessing abortion and reproductive health services in the United States.
The court's decision is rooted in politicizing and legislating the rights and decisions away from those needing safe and legal abortion and reproductive health services in their home communities.
All people needing access to abortion services are impacted, as this decision ensures that their bodily autonomy is no longer their own decision. Instead, individual states will have decision making power over what reproductive health services will be available, based on oppressive control measures.
The deep rooted oppressive measures taken are reflective of classism, sexism, racism, homophobia, transphobia, and discriminatory governance and control.
As Manitoba's largest union, we share our voice and solidarity with the labour movement, reproductive health clinics, 2SLGBTQI+ organizations, and community organizations in the United States that are advocating and opposing the dismantling of these rights.
We will advocate for everyone who needs abortion services, regardless of race, class, socioeconomic status, gender or identity.
For those who are forced to access abortion services and care in a non regulated or private program, we know that the risks are great for infection, complications, and even death. Public service reproductive care centres and clinics are crucial to ensure all humans have access to inclusive health care services in 2022.
If travel and access to reproductive health care increases in Manitoba as a result of this decision, CUPE & unionized workers stand with anyone seeking reproductive health care in our province.
The following resources and services are available for immediate support:
The Women's Health Clinic:
Winnipeg 204-982-7800
or Brandon 204-727-0417
Klinic Crisis Line
204-786-8686 or 1-888-322-3019
Services in the Northern Health Region: