The Manitoba Government's 2015 provincial budget was released on April 30th.
Throughout this week we will be featuring a number of key CUPE sectors and how the budget affects members within that sector.
What is the provincial budget?

The provincial budget is the implementation of the government's vision for the next year, as well as commitments to long-term and short-term investments.

Being part of a national union, CUPE members in Manitoba know that the cuts made in other provinces are not happening here. The Manitoba NDP has committed to supporting the services that Manitobans rely on.

CUPE members work in hospitals, long-term care facilities, and community clinics across Manitoba.

But what does the 2015 provincial budget mean to CUPE members in Manitoba?
The Manitoba budget commits to ensuring that there are no cuts to front-line health services that Manitobans rely on. Other jurisdictions like Saskatchewan are privatizing some health care services, and places like Alberta are cutting funding outright..
"While some have called for reckless cuts to front-line services and a halt to building of critical infrastructure, we have chosen a different path" said Finance Minister Greg Dewar.
CUPE Manitoba is pleased that the province continues to push the Federal government to restore funding to the Health Accord – a national campaign of CUPE and the Council of Canadians.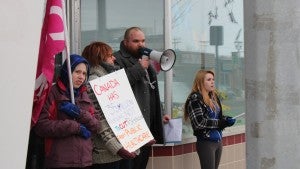 The budget documents recognize that "due to another unilateral decision, the federal government's contribution to health care in Canada will be reduced by about $26 million … it will come at the expense of provinces and territories".
In 2014 CUPE health care members rallied outside the offices of conservative MPs in Winnipeg calling on the restoration of this funding.
While there is still work to do to fight for better wages and a stronger health care system, the Manitoba budget is building on – rather than eroding – health care in the province.
Long Term Care
The government is increasing funding to Long-Term Care services by 10.7%, or $62.3 million in new funding. A significant increase to help improve long term care in the province. However CUPE will continue to work with the government to ensure that this funding goes towards improved staffing. CUPE Manitoba and the Private Personal Care Home Committee (PPCH) recently met with the Minister of Health to discuss concerns around staffing.
CUPE will continue to work with the provincial government to end the practice of "working short" in long term care facilities, particularly privately operated personal care homes.
Stay tuned for "Manitoba budget supports childcare and social services. What it means for CUPE members"